Our Services
Our Mission and Philosophy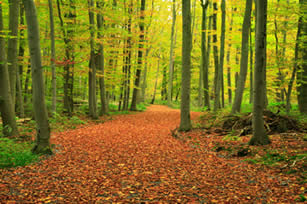 When someone or something we love has been taken from us, as a result of death, illness or the end of a relationship, we often find ourselves alone and lost in a dark and foreboding world of change and radical transition. Old paths of meaning and stability are blocked, and the task of clearing new roads towards a satisfied life often seems next to impossible. Our clients often ask: when our lives have been based on the strength of our attachments to our loved ones and cherished life patterns, how is it possible to continue in the presence of loss and of severed attachments?
No easy answers exist to these questions, and often the way out of this emotional quagmire is not easily discernible. The Center for Loss and Renewal was founded in 1988 to help sojourners in this land of loss and transition face a lonely and painful journey towards a new and changed life. We do not guarantee answers for our clients. What we do guarantee is our willingness to accompany and be present for our clients in their personal struggles towards growth and reconciliation with the vast impact of loss on their lives. Our goal is to help our clients, no matter what problem they face, to reauthor their life narratives.
All of our clinical services – whether it be individual bereavement counseling, group bereavement counseling, or individual and couple psychotherapy, are dedicated to helping our clients explore and understand the many roads and paths that are both open and closed to a person who is coping with a life changing loss or transition. We help our clients engage in this exploration in an atmosphere of support, respect, and deep awareness of individual strengths and differences in facing difficult life situations. Our goal throughout our work is to help our clients live lives of meaning and purpose.
While we have a special expertise in helping people through losses of all kinds, our psychotherapeutic work is not limited to clearly defined "grief" situations. All change involves elements of loss and letting go, and we apply our philosophy of life transition to a wide variety of human situations and problems, including anxiety, depression, work and career issues, parenting and family issues, and sexual and relationship problems.
Individual Grief Counseling
Grieving is a process of learning how to live in a changed world. When someone we love has died, or a relationship has ended, we are challenged to relearn how to be with ourselves, our families and our friends. We relearn and redefine our relationships with time, space and spirit. We are faced with coping and managing painful feelings, and with the task of creating new systems of meaning that allow us to live with joy and purpose in spite of our losses.
Bereavement Groups
Many people find it extremely useful to process the difficult feelings of grief in a group setting. Often family members, friends, and co-workers find it difficult to speak about the deceased loved one, and thus meeting with other bereaved individuals who are coping with similar life circumstances helps to reduce isolation and increase hopefulness.
Individual Psychotherapy
Our individual counseling sessions have at their foundation the goal of helping each person function at his or her best. We aim to help each individual attain more complete self understanding; develop skills for improving relationships; find new ways to cope with stress and anxiety; improve communication skills; break negative and self-destructive patterns; increase career satisfaction; and, increase self esteem and self-confidence.
Couples Psychotherapy
No individual enters a relationship or marriage expecting to need counseling. Couples enter our offices because a dream has died: the relationship that once looked so promising and fulfilling has now become a source of discomfort and pain. We specialize in helping couples deepen and repair their marriages and relationships by understanding the influence of past and present stressors on the current relationship.
EMDR
Sometimes clients enter our offices with problems that do not resolve via traditional methods of talk, exploration, increased self understanding and support. Distressing memories seem to be locked away and trigger ongoing pain and discomfort in spite of efforts to combat them.
EMDR (Eye Movement Desensitization and Reprocessing) is a highly specialized therapy used we provide to aid in overcoming the effects of trauma, abuse and upsetting experiences and memories. This highly researched form of trauma therapy can be a powerful tool in coming to terms with loss, grief and life disappointment.
Professional Workshops
We present workshops for clinicians at agencies across the United States and at international conferences on the subjects of loss, bereavement and life transition therapy. In all of our presentations we focus on the intersection of the professional and the personal: how working with grief impacts on the personal life of the clinician.
Grief in the Workplace Crisis Debriefing
When an employee is diagnosed with a serious illness or has died unexpectedly, colleagues of the deceased often experience a variety of strong reactions. Strong personal bonds are formed within work groups, and the impact of the illness or death of a colleague can be profound. A member of our staff will come to your office to facilitate a crisis debriefing. This experience will offer your staff a safe environment to express feelings and reactions to the illness or death and provide relevant information regarding normal reactions to such an event. Focus will also be placed on self-care strategies for coping with this situation. This debriefing usually includes both group and individual counseling sessions.
Comments from former clients:
"Ben spent a day working with staff at our close-knit office after the unexpected and deeply traumatic death of our Executive Director. His assistance was deft and helpful, and we would highly recommend his services to organizations coping with trauma and loss."
Daryl Samuel, Director of HR and Administration, New York Lawyers for the Public Interest."
"Ross Stores experienced a tremendous loss this past year with the passing of one of our Senior Vice Presidents. When we learned of her terminal illness, we immediately reached out to Ben, as we knew that her passing would inevitably affect so many members of her staff. Ben's expertise, calm demeanor and approach to the situation helped us develop a communication plan that allowed us to support the organization during their time of need. Ben was readily available and showed great care. As we managed this difficult situation, Ben provided a tremendous sense of support and clarity."
Christine Merletto, Senior Director, Associate Relations, Ross Stores, Inc
Staff Support Groups
Professionals in human service organizations, medical setting and mental health clinics face enormous pressures on a daily basis, and are susceptible to burnout and compassion fatigue. We will come to your agency and facilitate a group that will help your staff to process losses, learn stress reduction techniques, and foster increased team cooperation and unity.
Testimonials from Clients
"I attended and completed the "Group for Adult Children Who Have Lost a Parent" at about 10 months after losing my mother unexpectedly to pneumonia. I found the group to be immensely meaningful and helpful with my grief process in so many ways. Mostly, it was great to connect with other people who were going through the same thing and could understand my experience in ways that others in my life couldn't. I also learned a lot about the bereavement process in working with the counselor- bits of wisdom and experience that have been helpful in finding my own unique path of grief and renewal. I would recommend this group to anyone looking for support in coping with a loss."